"Online Since September 1996"
"The 1979 - 1982 Honda CBX 1000 Featured"
Last on 20 December, 2014
FLASH!!! Not too much happening in regard to CBX's for me personally.


If you are located in Alberta, Canada and have a desire to own a CBX let me know via email. I'll do what I can to assist you in finding one.


ThanX for visiting.
I loved riding my Honda CBX motorcycles. Here's a photo of a "1979 Honda CBX", the bike that started it all.
A short history of the "Honda CBX Motorcycle".
A good article featuring the "MotoMartin CBX".
CBX World
"CBX World" an online community for the Honda CBX motorcycle enthusiast.
THE INTERNATIONAL CBX OWNERS ASSOCIATION...
The International CBX Owners Association (ICOA), is a world-wide club for owners and admirers of the Honda CBX motorcycle. Membership information is available here as well as other interesting topics.
"CBX Racing - Tyrannosaurus X Racing Team" has an interesting page dedicated to their entry in the AFM Super Dinosaur class. AFM's Super Dinosaur racing is for Superbikes from 1985 and earlier.
"West Coast CBX" is a webpage also dedicated to the CBX motorcycle. It contains many priceless old Gran Prix photos and letters written by the father of the CBX, Soichiro Iramajiri. Be aware of the engine soundtrack when opening this page. Makes me jump every time.
Dave Hartner's Motorcycle Page features 'CYCLE' magazine's in depth article about the development history and initial consumer road test on the 1979 model CBX, which was printed in their February 1978 edition.
Is it a good day to go for a ride in Edmonton, AB, Canada? Current conditions and forecasts are but a click away!
When it comes to the weather it never hurts to get a second opinion.
Will the Aurora Borealis be visible in the night sky??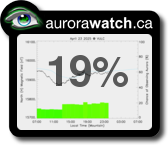 And how about those gas prices!!! Is it a good day to buy???
Please email; cbx4evr, with comments, suggestions and to talk CBX.
Words of Wisdom
"The Unreal CBX Home Page" is being designed using an Apple iMac.